Ready-mix & Precast Concrete
Ready-mix
Galiawa strives to regularly provide our clients with first-class goods and services.  We acknowledge the negative consequences of failure to fulfill the needs of our customers so as a consequence, we are always committed to providing quality. To ensure that we have the best goods and services in the industry, Galiawa demands quality from both our suppliers and ourselves. To achieve this, Galiawa has developed and operates a Quality Control System that meets the requirements of the product compliance regulations and standards of BS EN ISO 9001, BS OHSAS 18001 and BS EN ISO 14001. Moreover, we fulfill the specifications of the Iraqi Central Laboratory for product enforcement in concrete development and distribution facilities locally.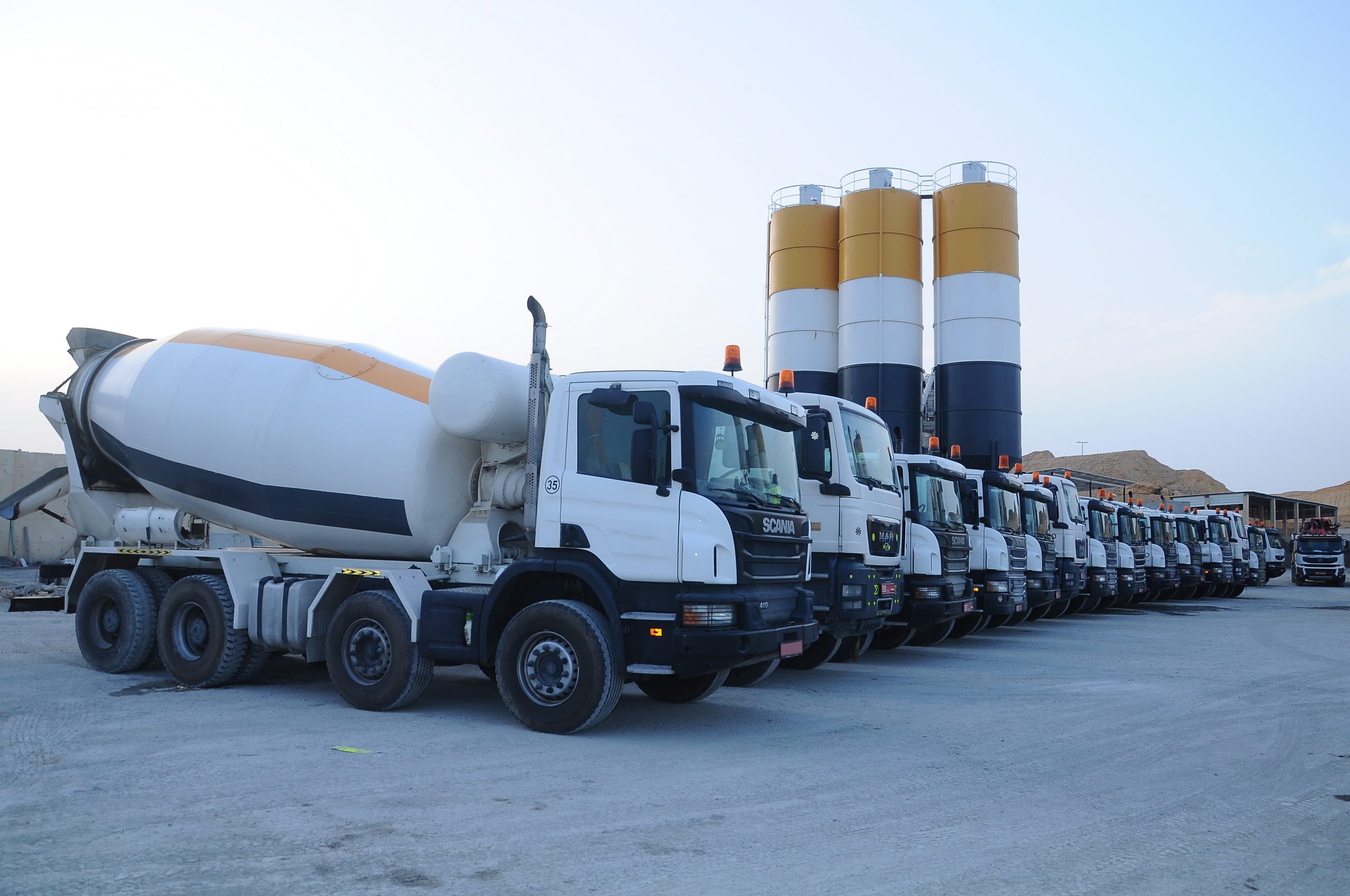 Each of our locations is supervised by professional quality control managers who lead a full team to monitor and validate individual results. Our arrangement requires 24-hour monitoring in the event that urgent action is required. Via well-established contact networks between the quality control department and suppliers of raw materials, effective quality control is further promoted.
All our batching plants are fully automated and operated by the …??? system. To ensure quality and precision of the constituent parts, the system automatically controls the specific batching specifications of each mix design. Galiawa 's test frequency is well above the enforcement criteria of BS EN 206 for ready-mix output quality control. Samples are taken at 1 in 120 -150m3 generated and both 7 and 28 days are tested for compressive power.
Galiawa offers a range of advanced ready-mix products to suit every possible project.
Profile
Galiawa's ready-mix and precast concrete operations were established in 2010. With a limited capacity of 60 m3/h, 8 transit mixers and 2 concrete pumps, our small-scale operation was only able to serve the Erbil district.  Galiawa made a name for itself in no time with its production quality and professional management and soon after became the leader in the ready-mixed concrete sector. In order to meet the increasing demand more easily, we opened our second batch plant in the Erbil region in 2012, our third in 2013 and fourth and fifth in 2014. Since then, had held our leadership position in the market and eventually opened batch plants in Baghdad and Duhok province in 2016.
What is ready-mix concrete?
Ready-mix concrete is concrete which is produced in a factory or batched plant according to a fixed formula.  It is then delivered by truck mounted in-transit mixers to a work site. Ready-mix concrete is an accurate mixture that enables the production and application of specialty concrete mixtures on construction sites and due to the consistency of the mixture and reduced worksite confusion, ready-mix concrete is often favored over on-site concrete mixing.
Ready-mix products
Product Sheet
TECHNICAL SUPPORT

Should you require any information for this product within the Galiawa range, please contact our customer support team …….

HEALTH AND SAFETY

Contact between cement fluids (e.g. eye fluids) may cause irritation, dermatitis or burns. Concrete is classified as an irritant under the Chemicals (Hazard information and packaging) Regulations. Please refer to the product safety data sheet for full information.
This standard concrete is formulated for most generalised applications.  This product meets the strictest of international standards zero loads rejected.
GENERAL INFORMATION

Our standard concrete allows you to pick the strength that is suited for a wide variety of jobs. The concrete is reliable and ultimate strength is guaranteed at 28 days.

AVAILABILITY

We supply this product in pumpable or non-pumpable form, starting from 75 mm and upwards in slump grades.

FEATURES

Manufactured in controlled conditions for consistent quality
Tested in cubes and varied mixes according to global standards
Can be formulated to the strength you need
Can be formulated according to colour
Highly workable concrete mixes
Will begin to set in about 4 hours

APPLICATIONS

Ideal for applications including;

Applicable for most generalised building applications
Suited to small or large projects

BENEFITS

Delivered directly to site, ready to use
Increases the speed of construction
Reduces labour costs and saves time
Reduces wastage and water use

STANDARDS

Standard specification for concrete
Standard specification for concrete block
Standard practice for selecting proportions
Building code requirements for structural concrete
Standard specification for road and bridge
Standard specification for public works construction
Precast concrete
At Galiawa Group, we understand that it is important for the success of any construction project to use quality precast concrete items. We have been able to produce various forms of precast concrete and other creative items that architects and construction professionals have favoured over our many years of business. All of our products are designed to stand the test of time as well as provide complete flexibility and freedom of design.
We produce our precast concrete products off-site in a factory-controlled environment, in comparison to casting concrete on site. In a regulated environment, we can ensure that the highest quality precast concrete products have minimal expansion and contraction. With unwavering consistency, our method delivers superior performance. This is why building professionals prefer Galiawa's precast concrete products for the most complicated and complex construction projects.
As a result of their high thermal performance, our precast concrete products are also environmentally friendly.
What is precast concrete?
Using a mould, precast concrete is produced off-site. That's the primary distinction between precast concrete and cast concrete on site, which is poured on site into its final destination. It is necessary to remember that not all precast concrete with cable reinforcement is prestressed. In many structures and buildings where optimizing the strength of the concrete is important, the addition of this reinforcement is especially useful.
Inside the concrete, the insertion of the wire or rebar generates stress that is released until curing is complete. The wire or rebar tension release transfers strength to the concrete, making an even stronger material. This method is quicker, safer and more economical than regular concrete, regardless of whether or not pre-stressing is a part of the equation. Precast concrete materials help you optimize the potential of your project while making sure that it is done on time. They are also among the most versatile products in construction, combining a strong structure with the ability to:
Choose any combination of color, form or texture
Integrate facades
Meet compatibility requirements for historic structures
Create everything from small sections to long open spans
Be recycled or reused upon removal or replacement
Our products
Bunker
Guard Tower
T-Wall
Texas Barrier